Congratulations!
You just took the first step toward one of the most significant days of your life and a blissful ever-after. We know how you may be feeling: eager, overwhelmed, excited, and hopeful. We get that! And we hear you. At Stoney Creek, we pride ourselves on making your big day everything you've ever pictured because we understand that you aren't looking for a venue; you're looking for an experience. Our event coordinators are here to make sure every detail is taken care of, so that you can enjoy your celebration with friends and family. So take a deep breath and count on us to make it all happen.
Discover Our
Venues
Close your eyes and imagine: a cabin tucked away in the trees. Rough-hewn furniture and a roaring fireplace to cozy up to. Warm wood accents everywhere. That's what you'll find at Stoney Creek venues: a one-of-a-kind, nature-inspired playground ready for your big celebration. Our warm and rustic atmosphere is what makes a wedding here full of irresistible charm and personality.
Every Stoney Creek venue location features thoughtfully appointed, inviting spaces and lush surrounding landscape. But beyond that, there's a dedicated team ready to personalize every detail and bring your dream wedding to life. We make sure to customize your event to the size of your party, transforming a variety of upscale gathering spaces into picturesque reception halls fit for the celebration of your dreams!
Tier
One
The basic necessities for any wedding event.
Keeping your wedding simple and sweet? Tier One is the perfect cost-effective solution for the budget-conscious couple that still want to have an unforgettable celebration with their close friends and family.
Your Tier One package includes the rental of our unique ballroom spaces and a complimentary honeymoon suite for you and your soon-to-be spouse. If you're looking for a place to open your gifts from your nearest and dearest, Tier One also gives you access to a gift-opening room, where you can congregate with friends and family the morning after the reception. The reception itself will include a dance floor and your choice of black or white napkins.
Includes:
10 a.m. ballroom access
Dance Floor
Black or white napkins
Honeymoon Suite
Gift-opening room
Audiovisual package (mic and projector)
Tier
Two
An extra little touch of elegance
If you already have a well-crafted vision for your nuptials and want to bring it to life while being mindful of your budget, Tier Two could be the perfect option for you. In addition to everything listed in Tier One, this package also offers you a dessert plating service, a champagne toast, and chair covers for the lighted head table.
Your wedding party will get early access to the ballroom on the day of your celebration to check off any last-minute to-dos. What's more, you and your sweetheart can enjoy sleeping in the next day with a late checkout from your honeymoon suite. Tier Two also allows you to add some personal touches to your reception with colored napkins and centerpieces.
Includes Tier One amenities, plus:
8 a.m. ballroom access
Colored napkins
Basic centerpieces
Cake-cutting service
Lighted head table
1 p.m. honeymoon suite checkout
Champagne toast for head table
Chair covers for head table
Tier
Three
The ultimate luxury wedding experience
Go all out with your celebration at Stoney Creek! Tier Three lets you host a dreamy event for your "I dos" – a celebration that no one on your guest list will soon forget. An even earlier access to the ballroom will ensure ample time for the decorating team to work their magic. With a full event enhancement package (think: chair covers, uplighting, and luxury linens), Tier Three guarantees a one-of-a-kind affair.
In addition to all the bells and whistles, each wedding party will enjoy their own suite, stocked with your choice of mimosas or domestic beer. Post-reception, you and your new spouse can retreat to an upgraded luxury suite – complete with a bottle of bubbly and caramel treats.
Includes Tier One and Two amenities, plus:
6 a.m. ballroom access
1 keg of beer
Upgraded day-of wedding party suites
Mimosa or bloody mary bar for gift opening
Champagne toast for all guests
Chair covers for all guests
Lighted pipe and drape
Uplighting
Specialty linens
Free rehearsal dinner room rental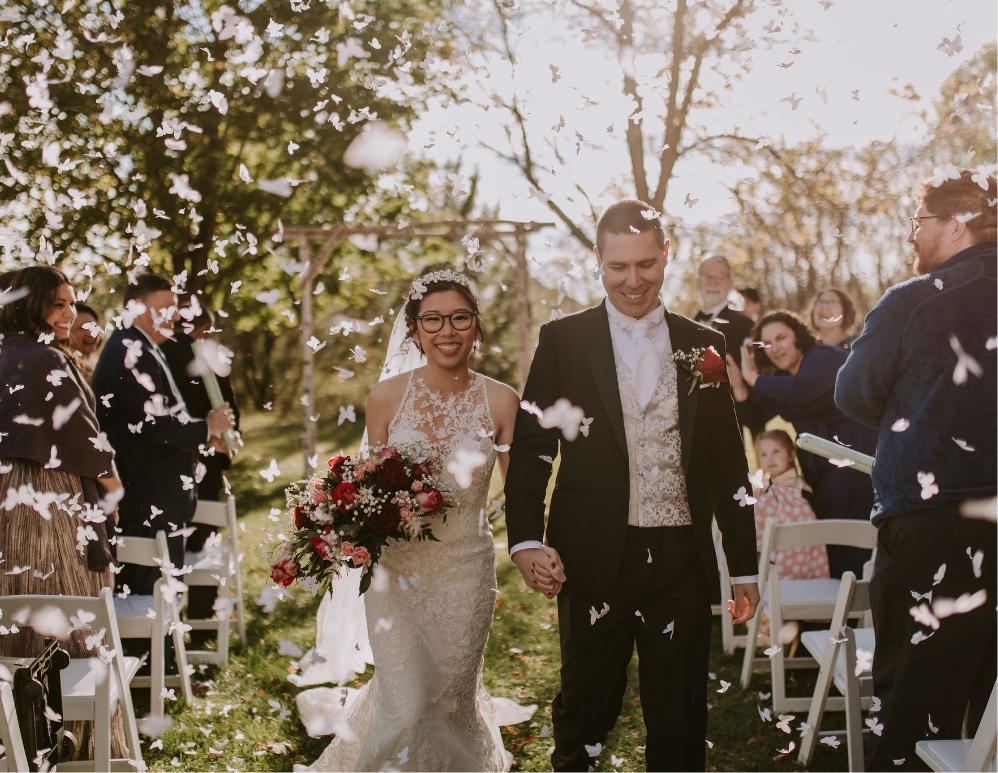 WHAT OUR CLIENTS
ARE SAYING
Beautiful Venue
"This was the perfect setting for our wedding and reception. The staff was very professional and the venue was sharp and clean. Our wedding coordinator went above and beyond in all the details. She worked very hard to make sure there were not complications. So many of the guests complemented us on what a nice place we had chosen. If I had to do it all over again, I would not change a thing. The staff at Stoney Creek made our memories fabulous!"
Fabulous
"Stoney Creek did a great job at accommodating our needs for our wedding. They were wonderful to work with and made sure every detail was perfect! I would recommend Stoney Creek to anyone. It was beautiful and we believe we got the most for our money! Not to mention, set up and clean up was done by them and took a lot of stress off of everyone else!"
True Professionals
"They were on top of everything! They kept us on track with reminders of upcoming deadlines and understood how chaotic the whole wedding process could be! Their reception packages were reasonably priced and they were able to accommodate our wishes. The room looked beautiful and everything went as smoothly as it could thanks to the staff at Stoney Creek!"
ALL YOUR WEDDING ESSENTIALS
UNDER ONE ROOF
Group
Rates
Enjoy discounted group pricing for your guests, and focus on the festivities all happening under one roof! Room blocks can be made with your event coordinator, ensuring that all of your family and friends are in the same area of the hotel. Enjoy additional celebrations after the reception has ended by visiting our on-site saloon locations.
Outdoor
Ceremonies
Outdoor ceremonies are offered at select Stoney Creek locations. Contact your Stoney Creek venue to inquire about offerings. Our outdoor ceremony includes the rental of a courtyard overlooking lakes, waterfalls, and beautiful expansive landscapes. Seating for up to 300 guests.
Features and amenities vary by location.
Rehearsal
Dinner
Rehearsal dinners are the perfect pair for your special day. Turn your wedding event into a weekend vacation by having multiple festivities for your family and friends to be a part of. Let our caterers prepare a perfect evening so you can focus on enjoying your event.
Interested in a different Location?
Are you interested in another one of our locations for your wedding? Add this location into your proposal and someone will reach out to you from that location to answer your questions. While we've spotlighted our top 5 venues, all of our properties offer weddings and events.